This article shows you how to edit PDF form online and offline, including using the best PDF form editor - PDFelement.
The rate at which PDF forms are used is rising, and there is no sign of slowing down. While people create PDF forms based on their needs, others edit PDF forms to meet their changing demands or enhance their previous works. Irrespective of the cause, PDF form editing has a crucial space across different fields. While many people know about desktop applications, plenty is still in the dark about how to edit PDF form online. The truth is that you can edit fillable PDFs online the same way you do it on a desktop platform. However, you need to find the right free PDF form editor. In this article, we give you a simple guide on how to edit PDF form online.
Method 1. Edit PDF Form Online with PDFescape
PDFescape is a free online PDF form creator, editor, and filler. Although it offers simple functionality, it is still worth trying because it is free. Here, you can source the input file from your device, internet, or a previously loaded PDF file. While this program is useful, users are limited in the size of files they can upload. You cannot upload a file whose size is greater than 10 MB and 100 pages.
The following steps illustrate how to edit PDF form online with PDFescape.
Step 1. Open your browser and visit the PDFescape edit PDF form online page.
Step 2. Select the "Upload PDF to PDFescape" link followed by the "Choose File" button. Select the target file and hit "Open" to upload it.
Step 3. When the file is loaded, choose from the several editing options on the top-left of the page. Once you are done, you can choose to share your PDF form or save it on your device.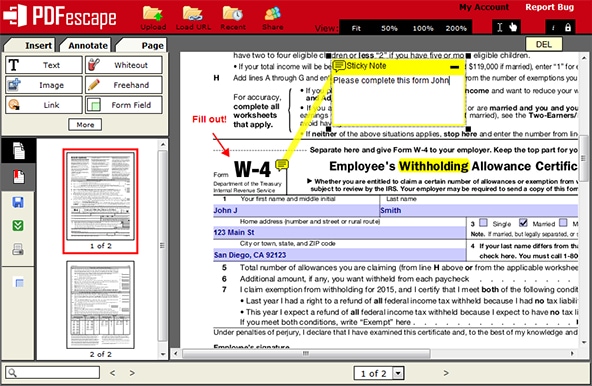 ---
Method 2. Edit PDF Form Online with Sodapdf
Sodapdf is a simple yet one of the most effective tools to edit PDF form online. With this tool, you can easily upload your PDF form and turn it into a fillable PDF form quickly. You can upload your files directly from the local computer, Google Drive, or Dropbox. Furthermore, you can use the drag and drop feature to upload your source file.
Editing fillable PDF online with Sodapdf is nothing complicated, as shown in the following steps.
Step 1. Using your browser, navigate to SodaPDF free PDF form editor page.
Step 2. Click the "CHOOSE FILE" button and browse to upload the target PDF form. Alternatively, you can drag the PDF form and drop it on the interface.
Step 3. With the PDF form uploaded, the form is displayed on a large canvas for editing. Select the "Form Field" button on the top of the page, then click the desired form field. Proceed to click the target location on the PDF, then wait for the program to place the form field. When you are done, save your new form to your PDF.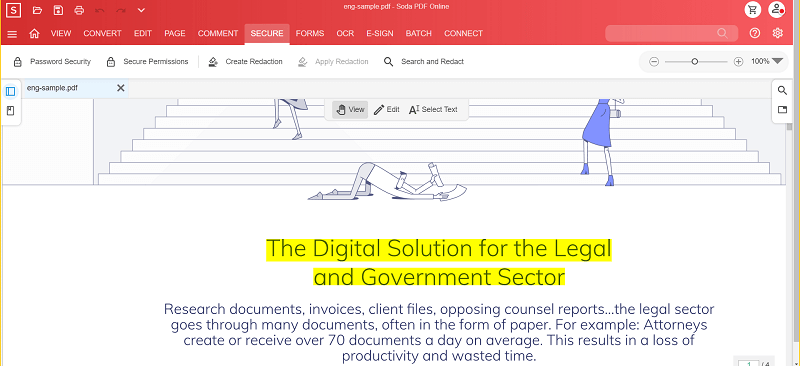 ---
Tip: How to Edit PDF Form Offline
PDFelement is a powerful PDF editing tool used by millions of users across the globe. This amazing all-in-one PDF software makes it easy and full of fun to edit PDF forms and work on other PDF tasks. These tasks include convert, create, edit, annotate, protect, print, perform OCR, and share PDF. The good thing about PDFelement is that it is fast, compatible with several devices and has an intuitive interface. You can download the free version or upgrade to the affordable unlimited version to unlock a better experience.
Step 1
Open a PDF Form
First, launch PDFelement on your device to access the main window. Here, hit the "Open files" button, then choose the PDF form you want to edit. Click "Open" to upload the PDF form to PDFelement.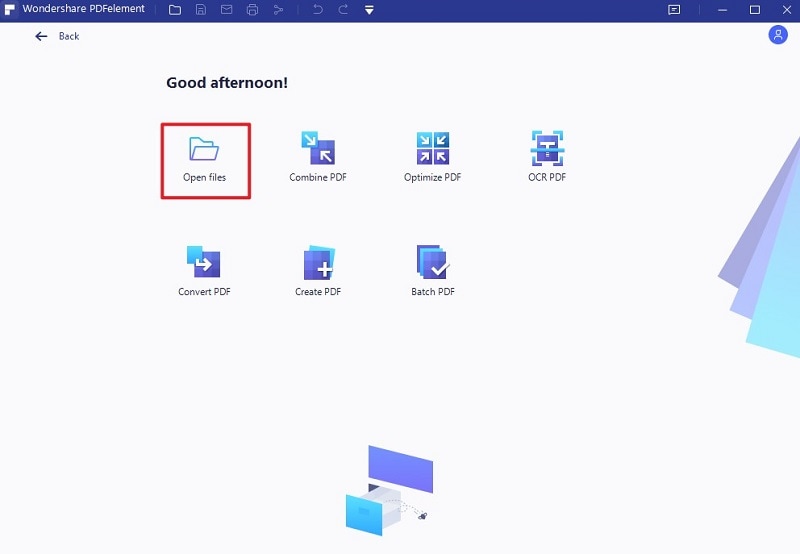 Step 2
Recognize PDF Form
With the PDF form now uploaded, navigate to the toolbar and click the "Form" tab. Click the "More" drop-down icon and select the "Recognize" option from the options displayed below it.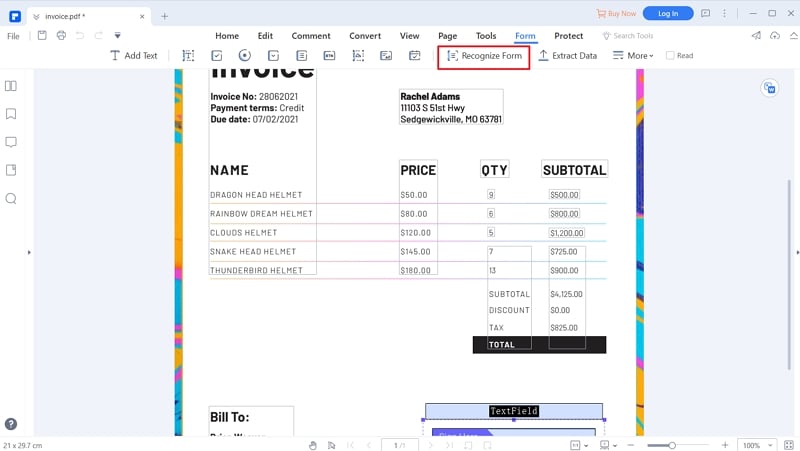 Step 3
Add Form Field
Now, you can add desired form fields to your PDF form. Just go to the "Form" tab, then choose the desired field icon below it. You can choose to add text, radio button, combo box, list boxes, and checkboxes. Simply choose the target form field and then click the area on the PDF where you want the form field to appear.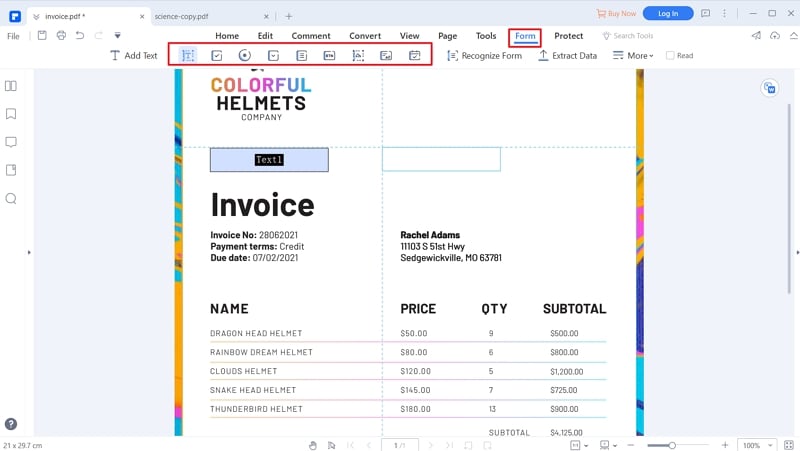 Step 4
Edit Form Properties
Once you have added your desired form fields, right-click the form field and choose "Properties." From the "Properties" dialog box, you can edit your form field's appearance, format, action, and several other features. When you are done editing, click "Close" to exit the window.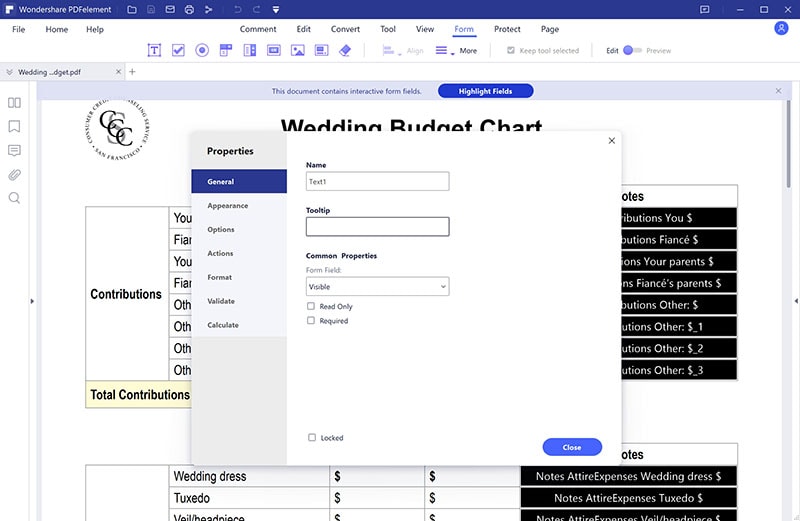 Step 4
Close Form Editing to Preview
Now that you are done editing your PDF form, you need to lock it from editing to prevent any content alteration. To do so, proceed to "Form," then drag the "Edit" slider on the right to activate the "Preview" mode.
---
The Advantages and Disadvantages of Edit PDF form Online
Editing PDF forms online has its pros and cons. Depending on your situation, you can weigh in on these advantages and disadvantages then decide to edit online or offline. They include:
Advantages of Edit PDF form Online
• You can access them anywhere at any time provided you have an internet connection.
• It works across many devices because you only need a compatible browser.
• Most of the online PDF form editors are free to use.
Disadvantages of Edit PDF form Online
• You need a steady internet connection.
• It makes your file vulnerable to security and privacy because it is uploaded to the cloud.
• You can easily download a malicious program when downloading edited PDF forms.