If you struggled to convert your photos to PDF, this article has simplified everything.
PDF format is one of the highly used formats and people are finding it great to save their photos as PDF. With PDF files, you can easily arrange your photos and prevent them from being edited easily. If you are handling official photos or want to convert your photos to PDF without flaws, you need an appropriate photo to PDF tool. The good news is that this article gives you the ultimate guide on how to convert photos to PDF seamlessly.
How to Change Photo to PDF with PDFelement
PDFelement is an amazing all-in-one PDF solution tool used by many people across the continents. This program is specially designed to transform the way users interact with their PDF files. Thanks to the incredible collection of excellent features. With PDFelement, you can handle all PDF tasks ranging from simple to complex tasks. Its speed, compatibility, ease of use, and affordability make it an obvious pick for many people. Some of the features of PDFelement include: convert, creating, editing, annotating, protecting, sharing, compressing, printing, performing OCR, and creating forms on PDFs.
3 Steps to Easily Turn Photo into PDF
PDFelement simplifies the way you convert photos to PDF. The following steps illustrate how you can convert your photo to PDF on PDFelement.
Step 1
Click the Create button
Open PDFelement on your device. Next, click the "Create PDF" button on the main window. You will then be taken to the file explorer window. Here, choose the photo you want to turn to PDF and hit "Open."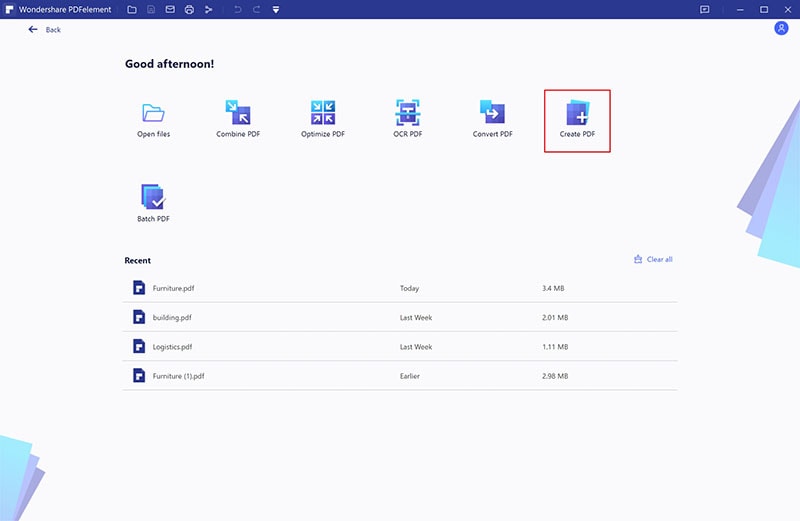 Step 2
Convert image to PDF
Now, PDFelement will automatically start to convert the selected photo to PDF. Wait as the process runs in the background. The photo is loaded on the PDFelement interface as PDF when it is done.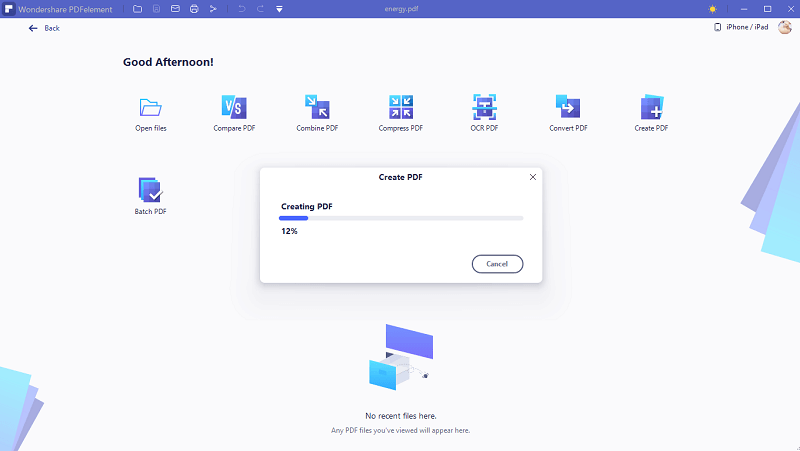 Step 3
Save photo as PDF
Finally, you need to save your new PDF file. Go to the "File" menu, then choose the "Save" option. Your file should be now saved.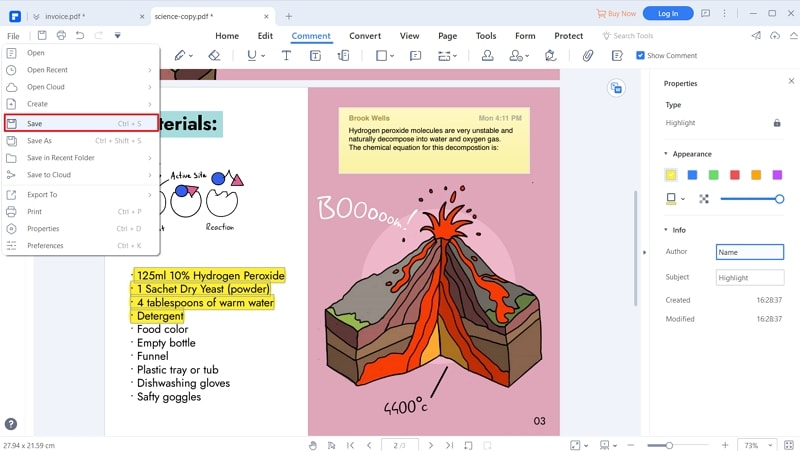 ---
How to Turn Photo to PDF with Default Application
Alternatively, you can turn photos into PDF from your device using the print option. This simple process takes a few seconds to get the job done. The following steps show how to convert a photo to PDF on the default app.
Step 1. Open your target photo on its native app.
Step 2. When the photo is loaded, identify the print option and print the image to PDF within the photo default app.
Step 3. From the printers displayed, choose "Wondershare PDFelement" as your printer. Make sure PDFelement is installed on your device. Now choose the desired preferences and hit the "Print" option. Wait for the program to turn your photo into PDF.