After reading this article, you will understand how PDFelement makes you merge Word to PDF as easy as pie.
There are many reasons why people merge Word to PDF. Whether it is because of the ease of editing, reading, or sharing, the most important thing is to know how to merge Word documents into one PDF. There are several options, but finding the right one can prove a challenging task. If you are handling sensitive or official documents, you cannot afford to get below-par services because they can easily plunge you into serious problems. Fortunately, this article takes you through a super-easy guide on how to merge Word to PDF.
How to Merge Word Documents to PDF
PDFelement Pro is a powerful all-in-one PDF solution. This program is rated the best PDF software, which explains why plenty of organizations and institutions leverage this tool. PDFelement has an amazing collection of features that transform how you interact with PDF files. The top-grade speed, ease of use, affordability, and compatibility are other reasons that make PDFelement the top PDF tool. With PDFelement, you can convert, create, edit, annotate, perform OCR, organize, protect, compress, print, and share PDFs with ease. The good thing with PDFelement is that it has a free trial version with good features.
Merging Word to PDF is an easy process with PDFelement. There are two ways you can merge Word to PDF with PDFelement. You can either use the right-clicking or use the "Create PDF" tab on the main window. Depending on your preference, you can choose between these two options.
Method 1. Merge Word to PDF by Right-clicking
In this method, we merge Word to PDF by right0-clicking the target Word document as explained below.
Step 1
Right-click Word Doc
To begin with, locate your Doc file on your computer. Right-click on the Doc file, then choose the "Combine to PDF" option.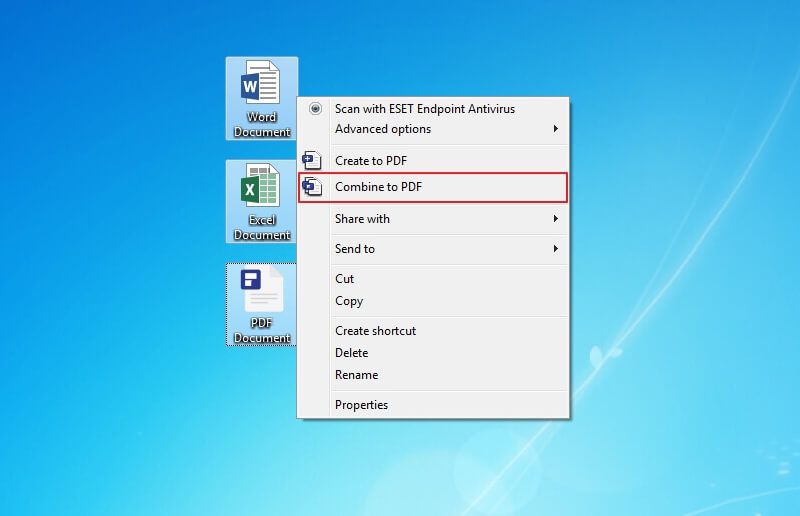 Step 2
Merge Doc to PDF
The program will pop-up a "Combine Files" window upon hitting this option. Here, you can set the page range and choose the desired output path. Once you are through, hit the "Apply" button at the bottom-right to allow the program to merge Word to PDF. Monitor the progress on the screen until it is 100% complete.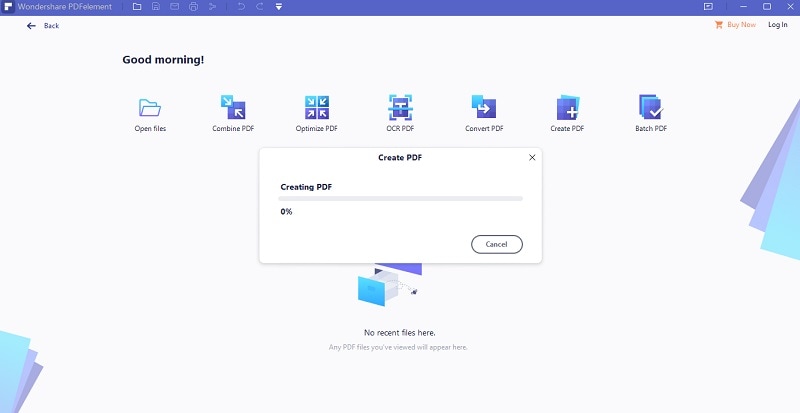 ---
Method 2. Merge Word to PDF on PDFelement Home Window
We use the "Combine PDF" feature on the PDFelement interface in this method. The process is straightforward, as explained below.
Step 1
Launch PDFelement
Begin by opening PDFelement on your computer. With the PDFelement interface displayed, proceed to click the "Combine PDF."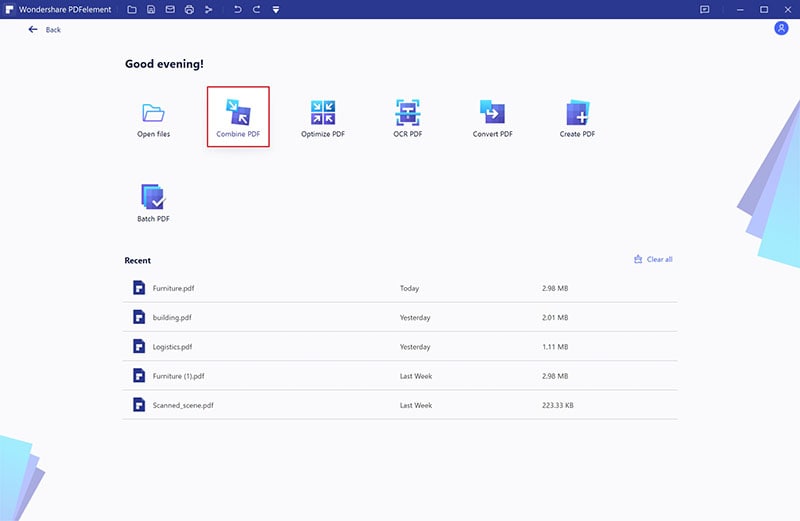 Step 2
Add Word Files to Merge
PDFelement will pop up in the "Combine" window. Locate and click the "Choose file" button. You should be taken to the file explorer window. Locate the target file, select it, and click "Open" to upload it. You can upload multiple Doc files if you want to merge more than one file.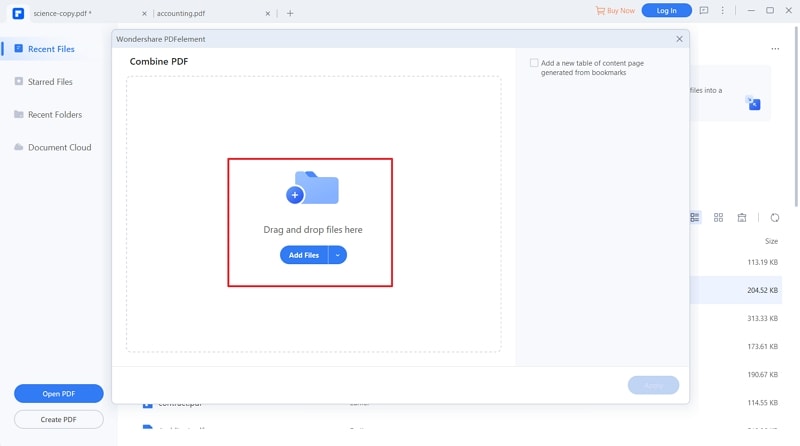 Step 3
Merge Word Files to PDF
After uploading your Doc files, proceed to the output section at the bottom left of this window. Choose the desired output path, then hit "Apply" to trigger the process of merging your Word to PDF file. Wait for the process to complete, then go to the output folder and locate your merged PDF file.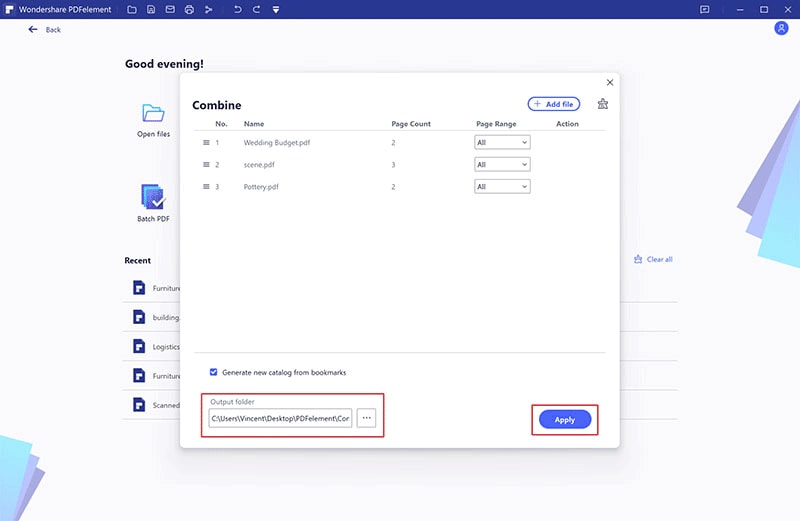 ---
Method 3. Merge Word Documents to PDF Online
Aspose is one of the easiest yet useful online to merge Word to PDF. This program can merge Word to PDF from any Mac, Windows, Android, and Linux device. Here, you can source your input files from your local computer via, a URL or the drag and drop feature. You don't have to get cold nerves if you are a newbie because everything is pretty clear.
Step 1. Using your browser, navigate to Aspose merge Word to PDF page.
Step 2. Click the "Upload your files" link to access the file explorer window. Browse the target Word file and hit "Open" to upload.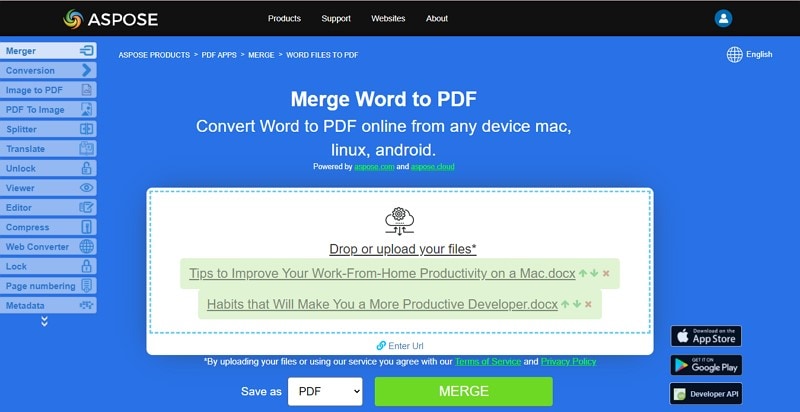 Step 3. When the Word file is uploaded, click the "Merge" button at the bottom and monitor the process in the background.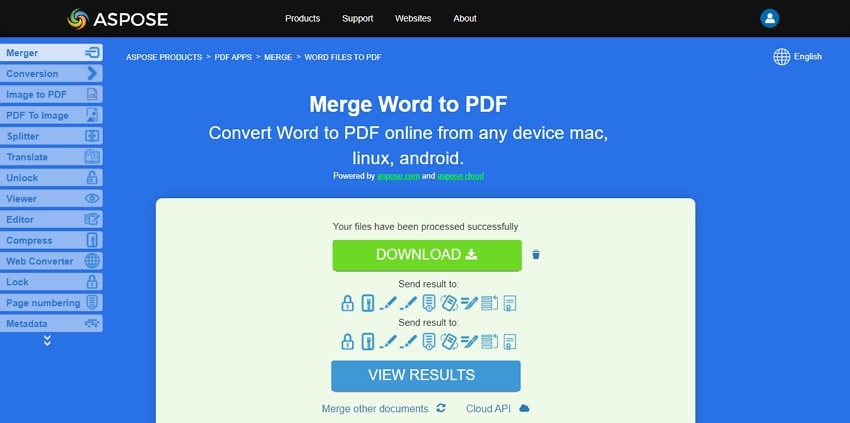 Step 4. Hit the "Download" button to fetch your new PDF file when the process is complete.