This article shows you how to create an interactive PDF form using the best tool - PDFelement.
Interactive forms transform the way people interact and process PDF forms. Interactive PDF forms are those forms that allow users to interact with. These forms have fields that users can interact with. These fields include buttons, text boxes, combo boxes, item lists, and comment boxes. The beauty of interactive PDF forms is the flexibility and ease of editing. However, this is easier said than done.
The secret to a good experience with interactive forms is to find a suitable interactive PDF creator. With several PDF tools in the market, it is easy to get caught in an under-par tool. However, this article simplifies everything for you by giving you the best way to create an interactive PDF form.
How to Create Interactive PDF Forms
PDFelement is a powerful all-in-one PDF software. This program is fast, easy to use, compatible with several devices, and is affordable. PDFelement has several features that make working with PDF easier and more fascinating. Some of these features include print, convert, edit, create, annotate, protect, organize, compress, share, and perform OCR on PDF files. You can also create interactive forms manually or automatically and add form fields like texts, radio buttons, combo boxes, item lists, and comment boxes.
Method 1. Create Interactive PDF Forms with PDFelement
PDFelement gives you one of the finest ways to create interactive PDF forms as illustrated in the following steps.
Step 1
Create a Blank PDF
To begin with, run PDFelement, then navigate to the "File" > "Create" > "Blank PDF" to create a blank PDF.
Step 2
Create Interactive PDF Forms
After creating a blank PDF, you need to add some form fields to make it an interactive PDF form. Navigate to the "Form" section and choose the form fields displayed below it. The form fields you can include text field, check box, radio button, combo button, list boxes, signature, time, and buttons.
To add a text field, click the "Add text" icon, then click on the target area of the PDF to release it. You can drag the text field to change position as per your need.
If you want to edit the properties of the field, just right-click the form field and select "Properties." Edit properties on the "Properties" dialog box to meet your needs.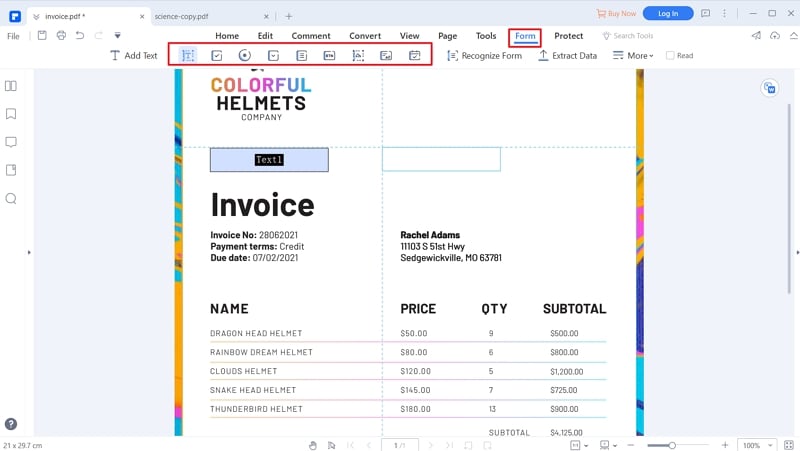 Step 3
Close Form Editing
When you are satisfied with the edits, it is good to close your PDF from editing. Go to the "Form" tab and drag the "Edit" slider to activate the "Preview" mode. This way, the Form is closed from editing.
Step 4
Save Interactive PDF Form
Finally, go to "File" > "Save" to save your PDF form.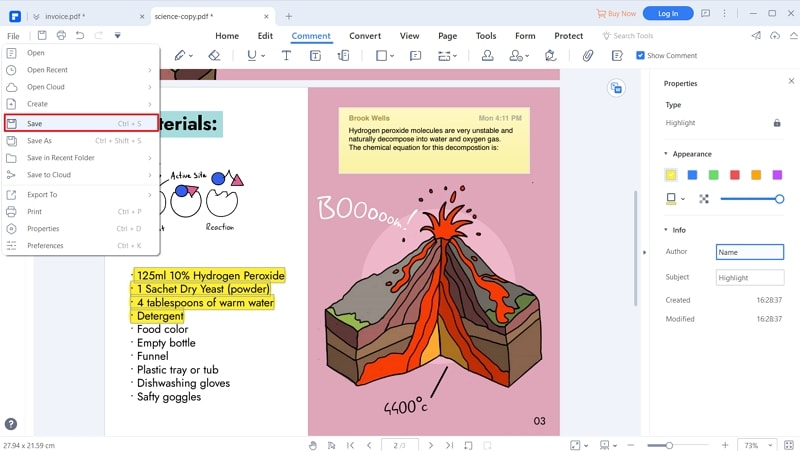 ---
Method 2. Create Interactive PDF Form in Adobe Acrobat
Adobe Acrobat is a feature-rich PDF tool that also allows users to create interactive PDF forms. Here, you can create interactive PDFs with the help of buttons, links, videos, checkboxes, and signatures. Once you are done creating interactive forms, you can preview your output to ascertain whether your Form is satisfactory. The downside of using Adobe Acrobat is the expensive subscription and lengthy steps.
Step 1. Start by opening Adobe Acrobat on your device.
Step 2. Navigate to the Edit PDF>Link>Add/Edit Web or Document Link to add buttons or links, then "Menu Button" for buttons. For video, go to "Tools" > "Rich Media" > "Add Video" > "Insert Video." For other fields, go to "Tools" > "Prepare Form," then add them.
Step 3. Finally, preview your PDF form by going to "Tools" > "Print Production" > "Output Preview."