This article teaches you how to fill in a PDF form with ease and speed using PDFelement.
Many organizations, businesses, institutions, and individuals use PDF forms to handle various tasks. Because forms require data, you will probably need to fill out a PDF form. However, filling out a PDF form is not a walk into the park. You need a proper PDF form tool or have a nightmare trying to input data into the forms. A good tool will let you input desired form fields and fill in PDF form without messing up your PDF. In this article, we take you through a detailed guide on how to fill in a PDF form with ease and speed.
How to Fill in a PDF Form
PDFelement is an excellent PDF software packed with nearly everything you would demand from a complete PDF solution. With PDFelement, you can convert, edit, print, annotate, print, protect, share, organize, and unlock texts on scanned PDFs with the OCR feature. The good thing with PDFelement is the ease of use, elegant interface, fast speed, amazing compatibility, and support for a wide range of formats. You can download the free trial version then upgrade to the affordable premium version.
Fill in a PDF Form with PDFelement
PDFelement simplifies how you fill in a PDF form. The following steps illustrate how to fill in a PDF form with PDFelement.
Step 1
Open a PDF Form
First, open PDFelement and click the "Open files" button. Browse the target PDF form and click "Open" to upload it.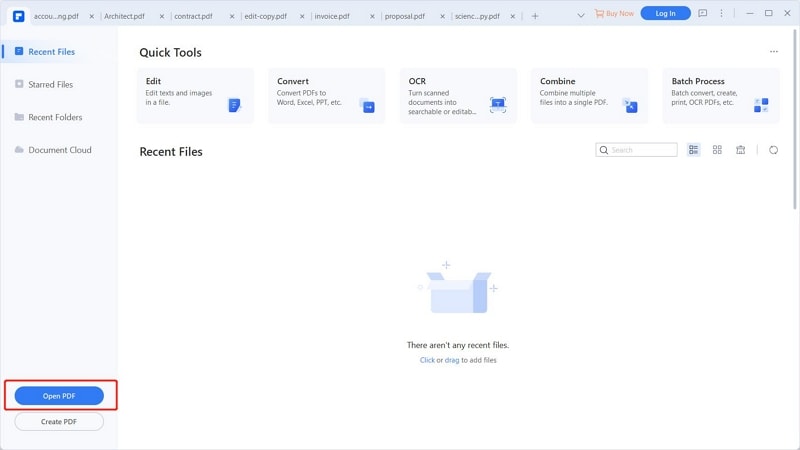 Step 2
Fill in PDF form in non-interactive PDF Form
If the PDF form is not interactive, you first need to recognize it. Simply go to "Form" > "More" > "Recognize Form," and the non-interactive form is converted to interactive.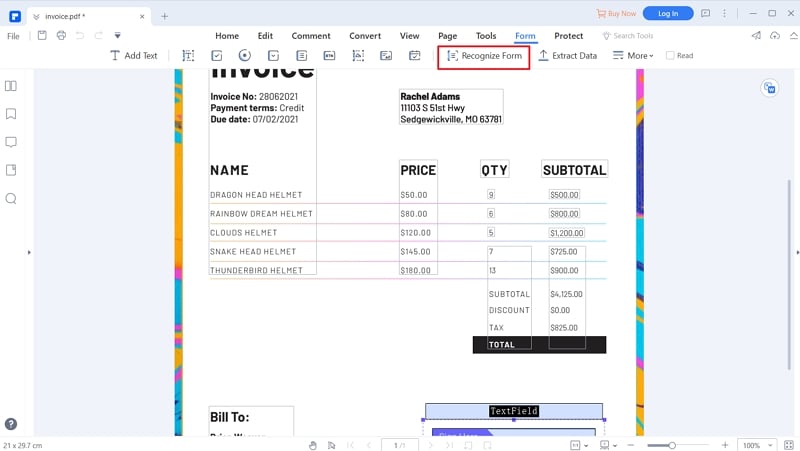 Step 3
Fill in PDF Form
If the PDF form is interactive, you can fill in PDF form directly. Simply click the "Form" tab and select the desired form field from the options displayed below this option. You can insert radio buttons, text boxes, item lists, signature, combo boxes, and buttons. Just select the target form field and click on the PDF to release it there.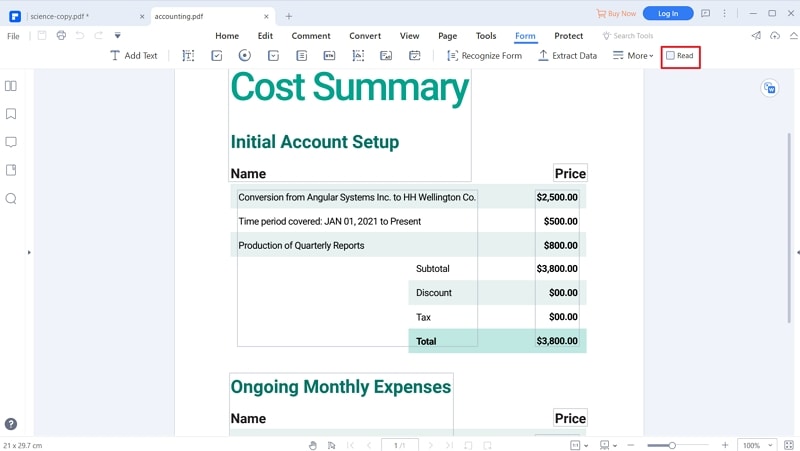 ---
The Differences between Interactive Form and Non-interactive Form
Although Interactive and non-interactive forms can be used in the same applications, it is important to know that the two forms have different characteristics, as illustrated below.
• Interactive forms provide options for users to interact with the data fields, while interactive forms do not provide a way to interact with the form.
• Interactive forms can be easily edited, while non-interactive forms are not editable.
• Interactive forms can adjust to new user demands, while non-interactive forms are rigid.