This article teaches you how to compress PDF with PDFaid compressor and its best alternative - PDFelement.
People across the globe use PDFaid to compress their PDF files. Although it is a good tool for compressing PDFs, there are still many who either don't know about this tool or have slim knowledge of how to use it. Furthermore, the PDFaid compress feature is unsuitable for official or bulk PDF tasks. Therefore, it is normal to find PDFaid compressor users looking for a PDFaid compress alternative. Fortunately, this article makes your work easier by taking you through a complete guide on PDFaid compressor and a suitable alternative.
How to Compress PDF with PDFaid
PDFaid is a simple yet excellent PDF compressor tool. This program gives users a platform to automatically compress a PDF to meet their needs. The good thing with PDFaid is that it offers flexibility in compressing your PDF files. Here, you have various compression options for images, streams, fonts, and layers. Therefore, the user can fine-tune the output file by choosing a suitable combination of compression options. The process is simple and fast. With just a few clicks, you are done with your PDF compression.
Step-by-step Guide on How to Compress PDF with PDFaid
Compressing PDF with PDFaid is not a tough task at all. The process is straightforward, and users don't need the experience to get started. The following are the steps.
Step 1. Use your browser to navigate to PDFaid compress PDF page.
Step 2. Click the "Choose File" button to open the file explorer window. Choose the PDF file you want to compress, then click "Open" to upload it.

Step 3. Once the PDF file is successfully uploaded, choose the desired compression option under the "PDF Compression Options" section.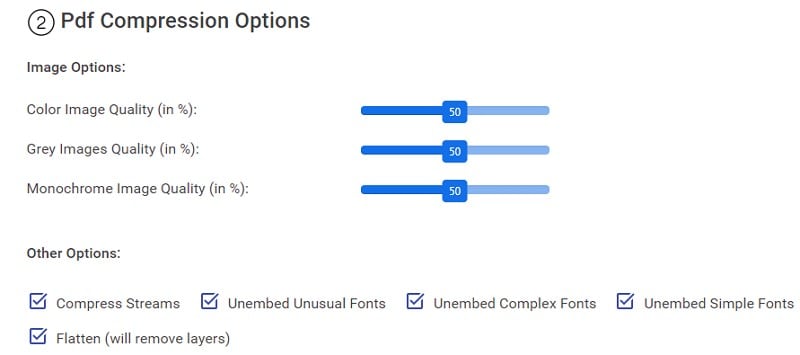 Step 4. When you are satisfied with your selections, click the "Compress Pdf" button to trigger the compression. This process should take a short time.
Step 5. When the PDFaid compressor has finished compressing your PDF, click the "Download PDF" button from the "Attachment" pop-up. The compressed file should now download to your computer.
---
The Advantages and Disadvantages of PDFaid Compressor
Although the PDFaid compressor is useful, it is not without drawbacks. The following are some of the advantages and disadvantages of PDFaid compressor.
Advantages
It allows users to separately adjust the quality of image files and other contents of the PDF.
It is easy to use, and you can use it across many devices, provided you have an internet connection.
Disadvantages
It raises security and privacy concerns when you upload files online.
It cannot function without a steady internet connection.
It is suitable for less-bulky tasks because it has a file size limit.
Because of the shortcomings of PDFaid, it is crystal clear that you need a reliable PDFaid compressor alternative. Fortunately, PDFelement is up to the task for the following reasons:
• It handles all types and sizes of PDFs across nearly all devices.
• There are no privacy or security concerns because all processing happens offline.
• PDFelement works without an internet connection and doesn't affect the quality of your PDF file.
---
How to Compress PDF with PDFaid Alternative
PDFelement is a powerful all-in-one PDF software that allows users to compress PDF without quality loss. This tool has an assortment of excellent features that makes it suitable for all types and sizes of PDF tasks. These features include edit, OCR, print, convert, create, protect, annotate, share, compress, compare, and organize PDFs. The good thing with PDFelement is that it offers incredibly fast speeds, supports a wide range of file formats, and is compatible with nearly all devices. Download the free trial version or buy the affordable premium version to unlock a better experience. Just follow the steps below and compress your PDF files like never before.
Step 1
Open PDF File
First, open PDFelement on your computer, then click the "Compress PDF" tab on the main window.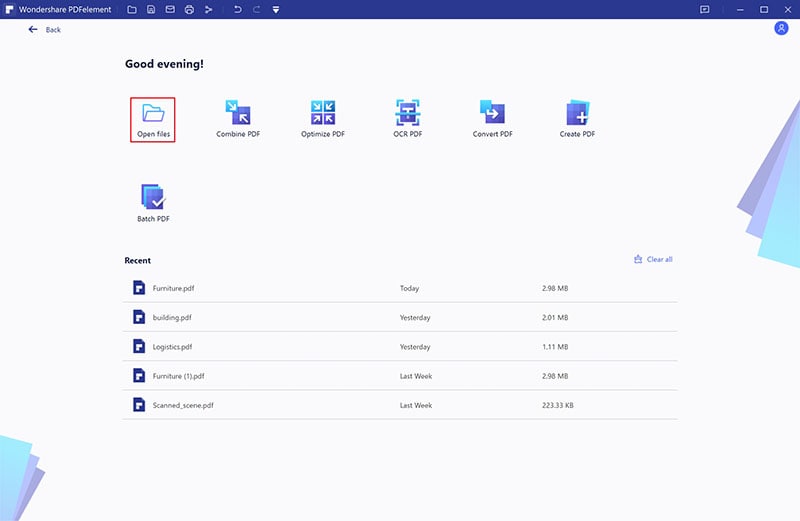 Step 2
Compress PDF
Now, PDFelement will take you straight to the file directory window. Select the PDF file that you want to compress, then hit "Open" to upload it to PDFelement. The program will immediately display the "Compress PDF" window. Here, you should see three compression qualities: High, Medium, and Low. Choose the desired compression quality and hit "Apply" to trigger the PDF compression on PDFelement.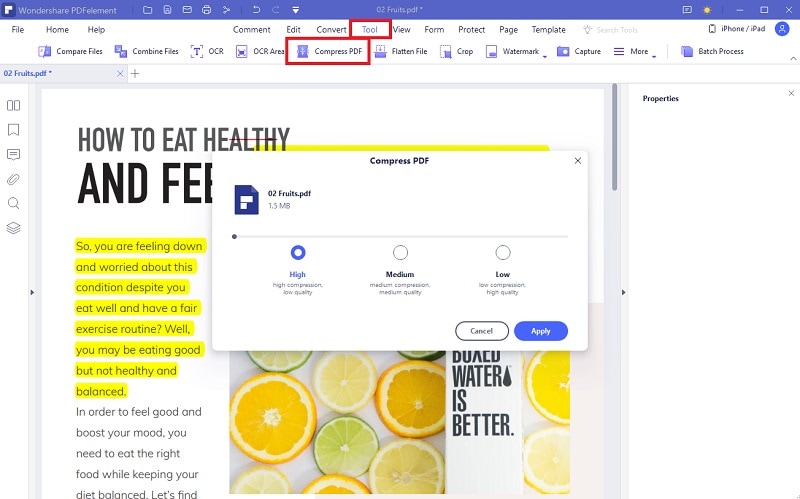 Step 3
Check the Size of the Compressed File
When the program has completed compressing the PDF file, you should see the "Start Over" and the "Open" buttons. If you were not satisfied with the compression quality, just hit the "Start Over" button and restart the compression. If you are satisfied with the compression, just click "Open," and PDFelement will open your compressed PDF on the PDFelement interface.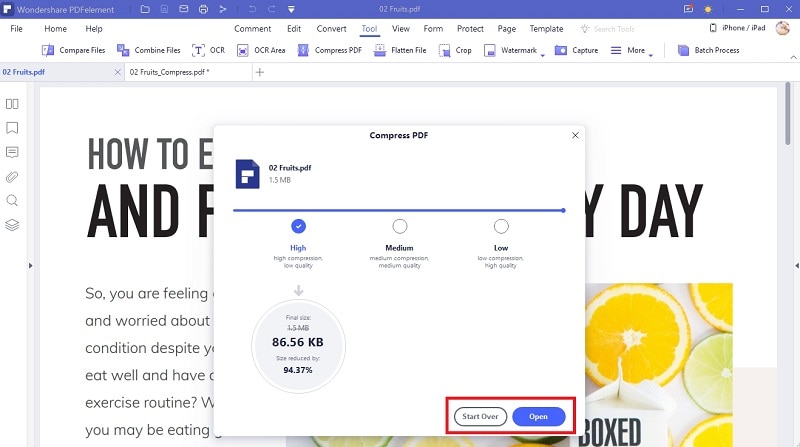 Step 4
Save compressed PDF File
Finally, go to the "File" menu and choose "Save" to save your compressed PDF file.