This article teaches you how to compress PDF with PDF2Go compressor and its alternative - PDFelement.
PDF2GO compressor is one of the most used online tools to compress PDF files. The beauty is that it is not one of those tools that has a smooth learning curve, even for newbies. You can get your simple PDF compression tasks done faster. On the flip side, the tool does fall short when it comes to handling advanced PDF operations. In this case, you will need a PDF2go compress alternative when handling bulky, sensitive, and high-quality tasks. This article takes you through a complete guide on how to use the PDF2Go compressor. We will also expound on its alternative if you are perhaps looking for advanced features:
How to Compress PDF with PDF2Go Compress Feature
PDF2go is one of the finest online PDF compressor tools. PDF2Go compressor has a simple interface. The steps are clear, and newbies can easily follow them to compress their PDF files. This program allows users to source PDF files from the local computer, Dropbox, Google Drive, and via a URL link. With PDF2Go compress PDF, you can choose from a variety of compression formats ranging from basic, strong, and preset compression quality. If you upload your file in another format, the program first converts that file to PDF before compressing it. Again, it doesn't matter whether your PDF contains tables, plaintexts, or images. This program compresses such content with speed and ease.
Step-by-step Guide on How to Compress PDF with PDF2Go
Step 1. Using your browser, visit PDF2go compress PDF page.
Step 2. On the page displayed, click the "Choose File" button and browse the target PDF file from the subsequent file explorer window. Alternatively, you can drag and drop the target PDF file on the "Drop Files here" section.
Step 3. When the file is finally uploaded to the program, choose the desired compression quality. You can choose Basic, Strong, or select from a preset. Just choose a compression quality that meets your needs.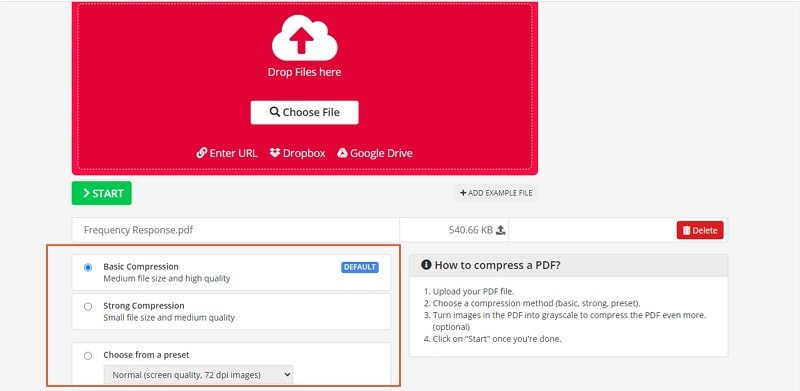 Step 4. When you have selected the desired compression quality, it is time to trigger the compression. Simply click the "Start" button, and the program will immediately start to compress your PDF file.
Step 5. When the compression process is completed, hit the "Download" button to fetch your compressed PDF file.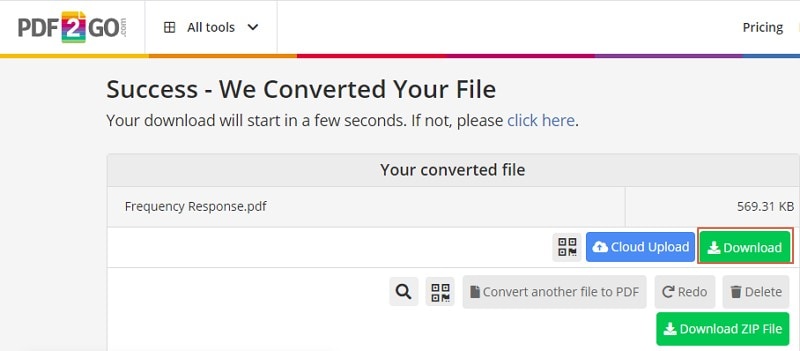 ---
How to Compress PDF with PDF2go Alternative
PDFelement is an excellent PDF software used by many people and companies across the globe for a variety of PDF tasks. PDFelement is a powerful all-in-one tool with unmatchable capabilities. With PDFelement, users can convert, edit, annotate, create, protect, share, compress, organize, and perform PDF OCR. The beauty of PDFelement is that it is fast, reliable, affordable, and supports batch processing. Download the free trial version of PDFelement or buy the affordable premium version to get an unmatchable experience.
How to Compress PDF with PDF2go Alternative - PDFelement
PDFelement offers one of the finest ways to compress PDF without losing the original quality. The steps are straightforward, and newbies won't experience a steep learning curve. The following steps illustrate how to compress PDF using PDFelement.
Step 1
Choose to Compress PDF
Download PDFelement and install it on your computer. Launch the program to access the main interface. Locate and hit the "Compress PDF" button.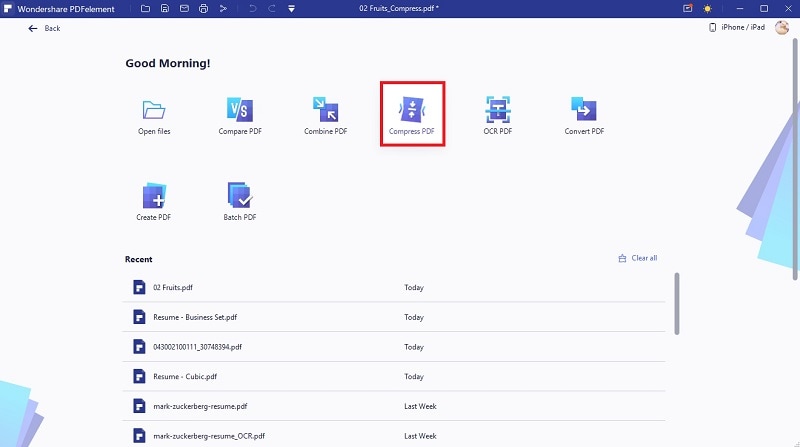 Step 2
Add PDF Files to Compress
PDFelement will take you to the file explorer window. Here, choose the PDF file that you want to compress, then click the "Open" button to exit this window and upload the file.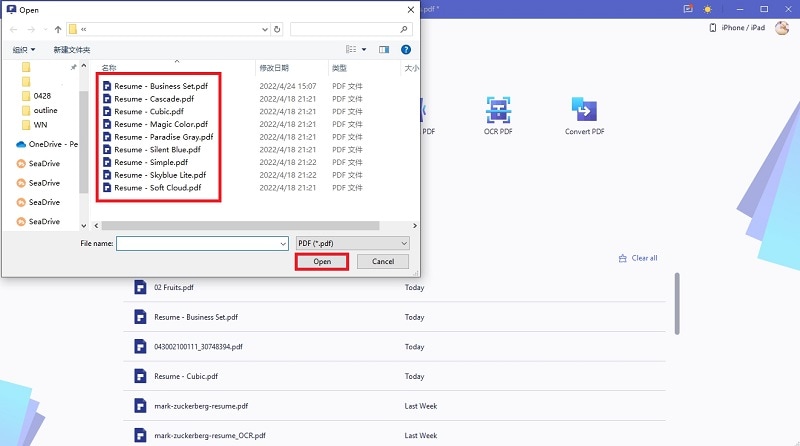 Step 3
Choose Compression Quality
The program should immediately pop up the "Compress PDF" window. Here, you are supposed to choose your desired compression quality. You can select High, Medium, or Low, depending on your need. Choose the desired compression quality and click "Apply."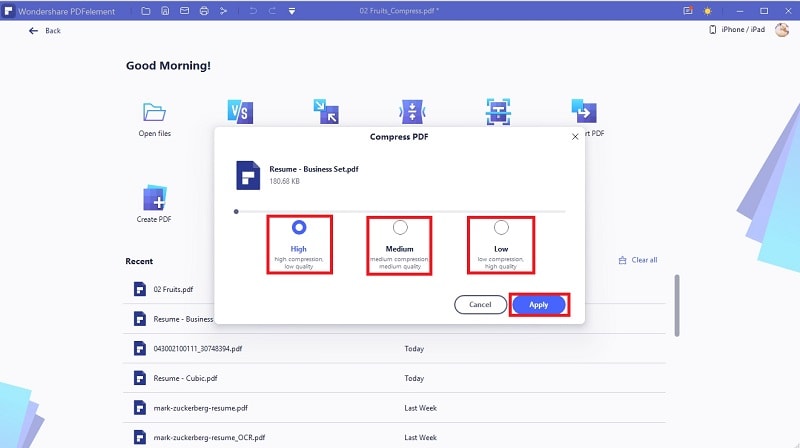 Step 4
Open Compressed PDF File
When the program has finished compressing your PDF file, click the "Open" button at the bottom right of this same pop-up window. If you are not satisfied with the compression, hit the "Start Over" and choose a suitable compression quality again.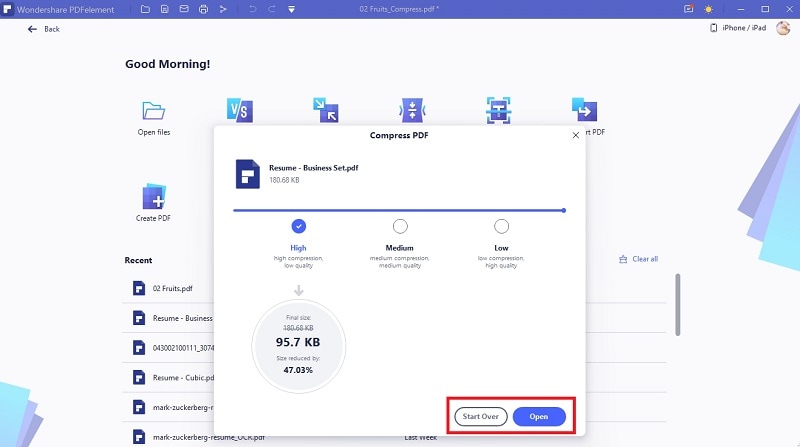 Step 5
Save Compressed PDF File
Immediately after you click the "Open" button, PDFelement will display your newly compressed PDF file on the interface. You can scroll down and view the file to see whether the contents are still intact. Before exiting, you need to save this file to avoid it being discarded. Simply go to the "File" menu, then choose the "Save" option. Your compressed PDF is now saved.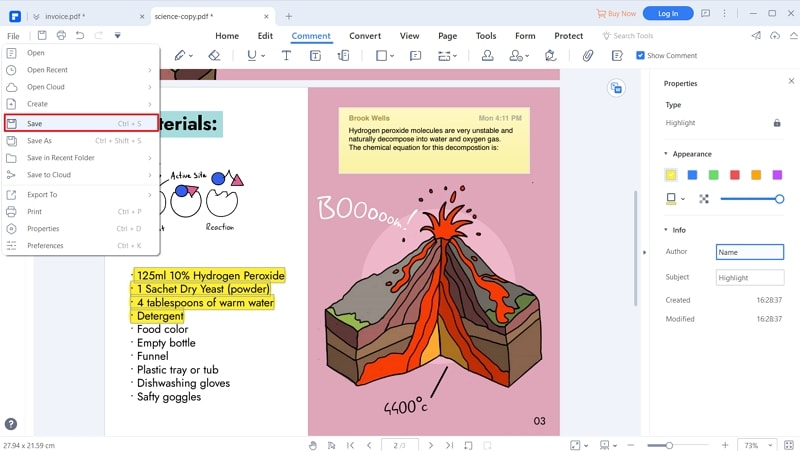 And that is how you can effectively compress your PDF file with the best PDF2Go alternative, PDFelement.