This article guides you on how to compress PDF offline using the right tool - PDFelement.
Large-sized PDF files eat up space on your device and consume more data when shared. If you have several desktop PDF files and want to organize or share them, it is always advisable to compress them into a suitable size. Therefore, the knowledge of how to compress PDF offline is paramount. However, your experience can turn inside out if you don't have the right PDF software to compress your PDF offline. While there are several PDF compressor offline tools in the market, you can easily get confused if you are a newbie. Fortunately, this article takes you through a detailed guide on how to compress PDF offline.
How to Compress PDF Offline
PDFelement is the best free PDF compressor software offline with an assortment of excellent tools. This program is designed with the user in mind and offers virtually everything you would demand from modern PDF software. PDFelement is fast, easy to use, compatible with many devices, supports batch conversion and a variety of file formats, and keeps your file's original format and quality. With PDFelement, you can convert, create, annotate, print, edit, protect, compress, and perform OCR. PDFelement is a complete PDF package free of bias, and you don't need a third-party tool. You can download the free trial version and upgrade to the premium version to unlock an unmatchable experience.
How to Compress PDF Offline with PDFelement
PDFelement allows users to compress PDF files with speed and accuracy. The program does not alter the quality of your output files. The steps are straightforward, and newbies won't struggle to navigate. The following steps illustrate how to compress PDF free offline with PDFelement.
Step 1
Choose to Compress PDF
To begin with, download and install PDFelement on your computer. Proceed to launch PDFelement and click the "Compress PDF" tab on the primary window.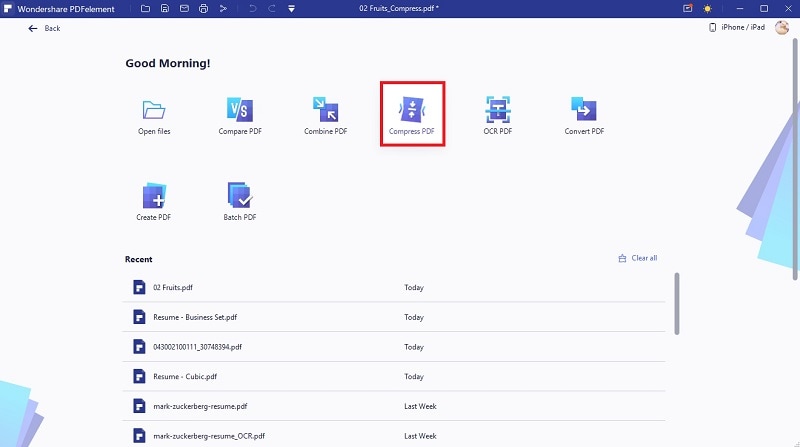 Step 2
Add PDF Files to Compress
Now, PDFelement will take you to the file explorer window. Choose the PDF file(s) you want to compress and hit "Open" to upload.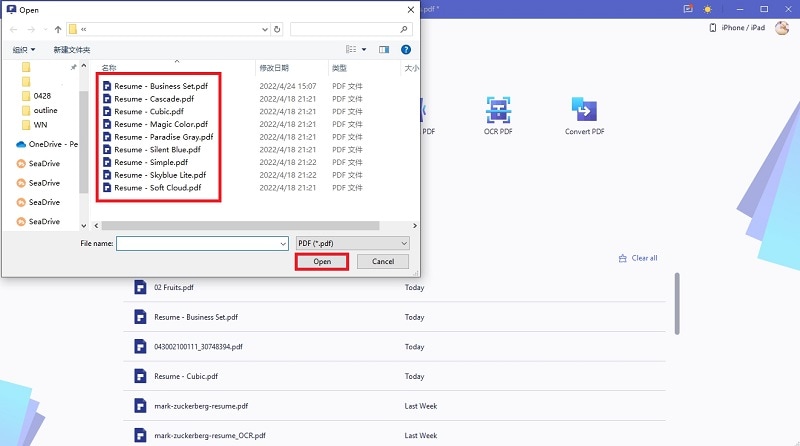 Step 3
Choose the Compression Quality
Upon clicking the "Open" button, the "Compress PDF" dialog box will pop up. You will be presented with three compression quality options: High, Medium, and Low. The "High" compression quality is the default option. Simply choose the desired compression quality, then hit "Apply" to proceed.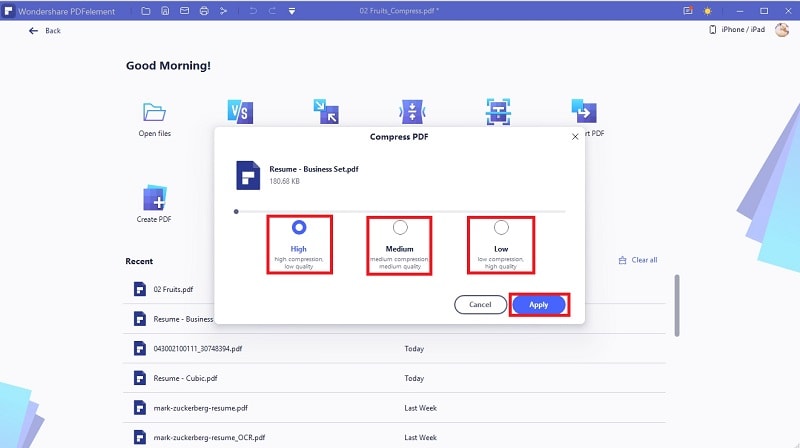 Step 4
Open Compressed PDF File
When the PDF compression is complete, you should see two options, namely "Start Over" and "Open." Click the "Open" button to open your compressed PDF file. If you were not satisfied with the compression or wanted to change the compression quality, just hit "Start Over."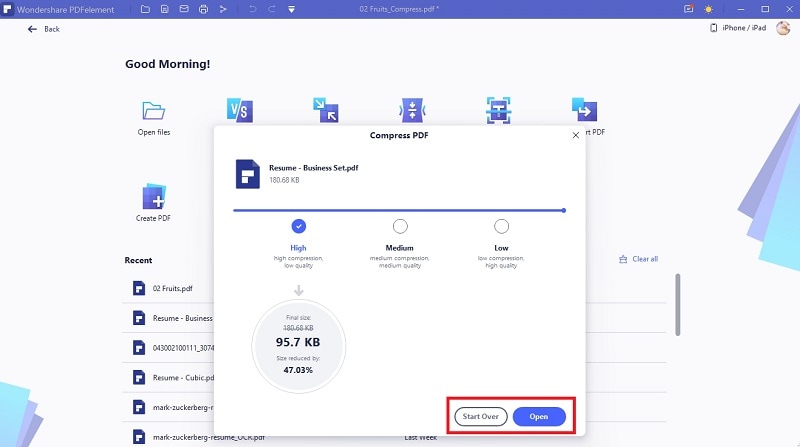 Step 5
 Save Compressed PDF File
Now that you have compressed your PDF files, you need to save your new compressed file to avoid being discarded. To save your compressed file, just go to the "File" menu and choose "Save" from the options given.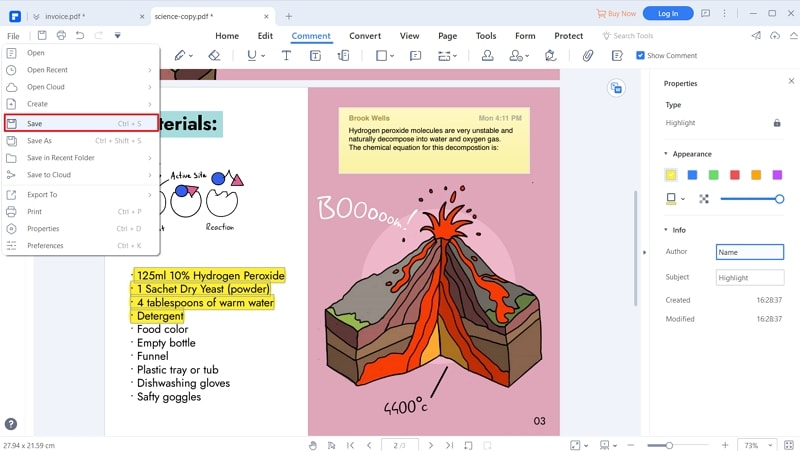 You have now compressed your PDF offline with PDFelement. You can see that the quality of your output file is unchanged. If you have multiple files, you can compress them at once within a short time.
---
Why You Need to Compress PDF Offline
The lion's share of PDF compression happens offline and should be a no-brainer to you as well. Some of the reasons you need to compress PDF offline include:
• Offline tools support batch compression and are not limited in the size of files uploaded. Therefore, you can handle huge tasks and finish faster.
• Does not require internet connectivity- With offline tools, you don't need an internet connection. You only need the offline tool to get started. This makes it more convenient and cost-effective.
• Offline compression offers better security and privacy - Since you don't upload files online for processing, you reduce the risk of hacking and ransomware attacks.